Effective: October 20, 2020
7
Ladrillera/El Cuatro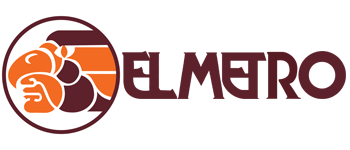 www.elmetrotransit.com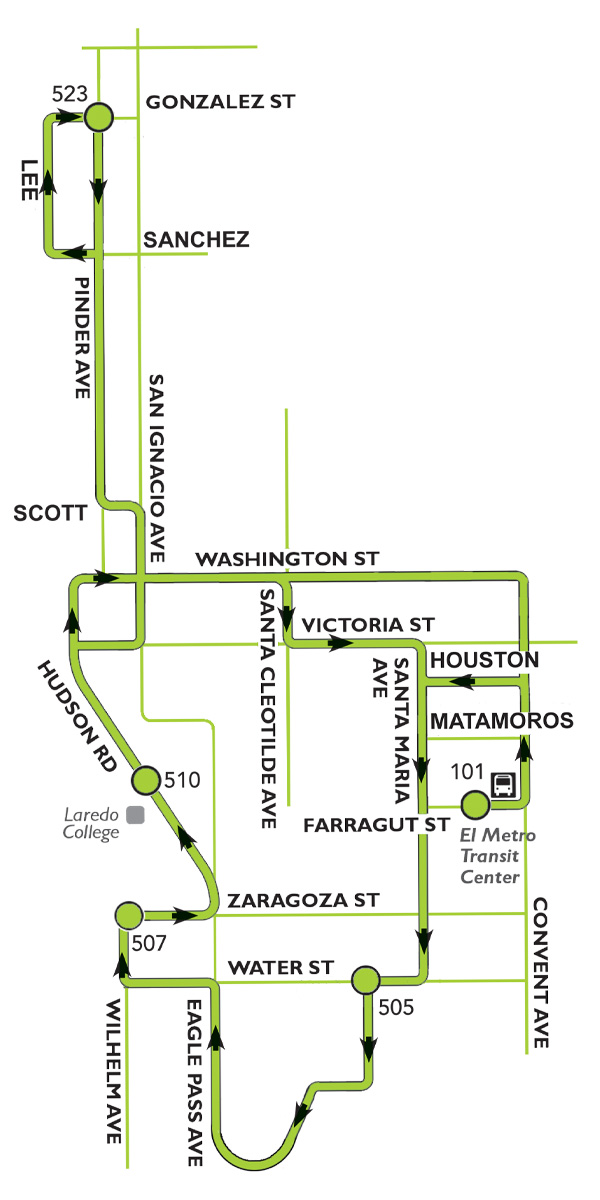 RIDER'S TIPS
Be at your bus stop 5 minutes early.
Have the correct fare ready. Bus operators do not carry change.
Reserve seats in the front of the bus for the elderly and riders with disabilities.
For safety, please fold strollers and keep them out of the aisle.
Service animals are welcome.
Please do not eat, drink or smoke on the bus.
Exit through the rear door.
For more information about El Metro services, visit www.elmetrotransit.com or call (956)795-2280.
CONSEJOS PARA EL PASAJERO
Llegue a su parada de autobús cinco minutos más emprano del tiempo en el horario.
enga el pasaje exacto. Los chóferes no traen cambios.
Los boletos de transbordo deben comprarse al momento de subir.
Favor de reservar los asientos delanteros para las personas mayores y los pasajeros con discapacidades.
Favor de doblar los cochecitos y despejarlos del pasillo.
Se puede viajar con un animal de servicio.
Desembárquese por la puerta trasera.
Para más información sobre El Metro, visite www. elmetrotransit.com or llame al (956)795-2280.
FARES / tarifas
Student
with valid school ID
$1.50
estudiante
con tarjeta ID de escuela
Child
ages 5 to 11 $0.75
Under 5 years old FREE
$0.75/Free
niño
edad 5 a 11 $0.75
Menores de 5 años GRATIS
SENIORS/ADULTS
DISABILITY, MEDICARE CARD, WITH EL METRO & EL LIFT ID, MON-FRI 6AM—9AM & 3PM TO 6PM
$0.75
SENIORS/ADULTS
DESCAPACIDAD, TARJETA DE MEDICARE, CONTARJETA DE EL METRO O EL LIFT LUN-VIE 6AM—9AM Y 3PM 6PM
SENIORS/ADULTS
DISABILITY, MEDICARE CARD, WITH EL METRO & EL LIFT ID, MON-FRI 9AM—3PM & 6PM TO 10PM
$0.25
SENIORS/ADULTS
DESCAPACIDAD, TARJETA DE MEDICARE, CONTARJETA DE EL METRO O EL LIFT LUN-VIE 9AM—3PM Y 6PM –10PM
$3.00
PASE DE AUTOBUS
PASE DE 2 HORAS
$6.00
PASE DE AUTOBUS
PASE DIARIO
$40.00
PASE DE AUTOBUS
PASE SEMANAL
$120.00
PASE DE AUTOBUS
PASE MENSUAL
STUDENT TRANSPORTATION PROGRAM FEES
FALL TRANSPORTATION SERVICE FEE
$250.00
TARIFAS DEL PROGRAMA DE TRANSPORTE ESTUDIANTIL
TARIFA DE SERVICIO DE TRANSPORTE DE OTOÑO
STUDENT TRANSPORTATION PROGRAM FEES
SPRING TRANSPORTATION FEE
$280.00
TARIFAS DEL PROGRAMA DE TRANSPORTE ESTUDIANTIL
TARIFA DE SERVICIO DE TRANSPORTE DE PRIMAVERA
STUDENT TRANSPORTATION PROGRAM FEES
SUMMER SESSION 1
$80.00
TARIFAS DEL PROGRAMA DE TRANSPORTE ESTUDIANTIL
SESION DE VERANO 1
STUDENT TRANSPORTATION PROGRAM FEES
SUMMER SESSION 2
$80.00
TARIFAS DEL PROGRAMA DE TRANSPORTE ESTUDIANTIL
SESION DE VERANO 2
EL LIFT FARES
EL LIFT REGULAR FOR RIDES UP TO 7 MILES
$1.75
TARIFAS DE EL LIFT
EL LIFT REGULAR PARA PASEOS DE HASTA 7 MILLAS
EL LIFT FARES
EL LIFT PLUS FOR RIDES FROM 7.1 UP TO 14 MILES
$2.00
TARIFAS DE EL LIFT
EL LIFT PLUS PARA PASEOS DESDE 7.1 HASTA 14 MILLAS
EL LIFT FARES
EL LIFT PREMIUM FOR RIDES 14.1 MILES AND OVER
$2.25
TARIFAS DE EL LIFT
EL LIFT PREMIUM PARA PASEOS DE 14.1 MILLAS Y MAS
7A MONDAY–SATURDAY | 7B MONDAY–SATURDAY / lunes–sábado
(7A MONDAY-SATURDAY) from/desde El Metro | to/a El Metro

| El Metro Transitcenter | Outlet | Zaragoza @ Wilhem | LCC Main Campus | El Metro Transitcenter |
| --- | --- | --- | --- | --- |
| 101 | 505 | 507 | 510 | 101 |
| 6:45 | 6:52 | 6:59 | 7:03 | 7:10 |
| 7:45 | 7:52 | 7:59 | 8:03 | 8:10 |
| 8:45 | 8:52 | 8:59 | 9:03 | 9:10 |
| 9:45 | 9:52 | 9:59 | 10:03 | 10:10 |
| 10:45 | 10:52 | 10:59 | 11:03 | 11:10 |
| 11:45 | 11:52 | 11:59 | 12:03 | 12:10 |
| 12:45 | 12:52 | 12:59 | 1:03 | 1:10 |
| 1:45 | 1:52 | 1:59 | 2:03 | 2:10 |
| 2:45 | 2:52 | 2:59 | 3:03 | 3:10 |
| 3:45 | 3:52 | 3:59 | 4:03 | 4:10 |
| 4:45 | 4:52 | 4:59 | 5:03 | 5:10 |
| 5:45 | 5:52 | 5:59 | 6:03 | 6:10 |
| 6:45 | 6:52 | 6:59 | 7:03 | 7:10 |
| 7:45 | 7:52 | 7:59 | 8:03 | 8:10 |
(7B MONDAY-SATURDAY) from/desde El Metro | to/a El Metro
| Transit Center | LC Main Campus | Gonzalez @ Pinder | LCC Main Campus | Transit Center |
| --- | --- | --- | --- | --- |
| 101 | 510 | 523 | 510 | 101 |
| 7:15 | 7:22 | 7:29 | 7:33 | 7:40 |
| 8:15 | 8:22 | 8:29 | 8:33 | 8:40 |
| 9:15 | 9:22 | 9:29 | 9:33 | 9:40 |
| 10:15 | 10:22 | 10:29 | 10:33 | 10:40 |
| 11:15 | 11:22 | 11:29 | 11:33 | 11:40 |
| 12:15 | 12:22 | 12:29 | 12:33 | 12:40 |
| 1:15 | 1:22 | 1:29 | 1:33 | 1:40 |
| 2:15 | 2:22 | 2:29 | 2:33 | 2:40 |
| 3:15 | 3:22 | 3:29 | 3:33 | 3:40 |
| 4:15 | 4:22 | 4:29 | 4:33 | 4:40 |
| 5:15 | 5:22 | 5:29 | 5:33 | 5:40 |
| 6:15 | 6:22 | 6:29 | 6:33 | 6:40 |
| 7:15 | 7:22 | 7:29 | 7:33 | 7:40 |
7A SUNDAY & HOLIDAY | 7B SUNDAY & HOLIDAY / domingo y días festivos
from/desde El Metro | to/a El Metro
| Transit Center | Outlets | Zaragoza & Wilhelm | LCC Main Campus | Transit Center |
| --- | --- | --- | --- | --- |
| 101 | 505 | 507 | 510 | 101 |
| 7:45 | 7:52 | 7:59 | 8:03 | 8:10 |
| 8:45 | 8:52 | 8:59 | 9:03 | 9:10 |
| 9:45 | 9:52 | 9:59 | 10:03 | 10:10 |
| 10:45 | 10:52 | 10:59 | 11:03 | 11:10 |
| 11:45 | 11:52 | 11:59 | 12:03 | 12:10 |
| 12:45 | 12:52 | 12:59 | 1:03 | 1:10 |
| 1:45 | 1:52 | 1:59 | 2:03 | 2:10 |
| 2:45 | 2:52 | 2:59 | 3:03 | 3:10 |
| 3:45 | 3:52 | 3:59 | 4:03 | 4:10 |
| 4:45 | 4:52 | 4:59 | 5:03 | 5:10 |
| 5:45 | 5:52 | 5:59 | 6:03 | 6:10 |
to/desde El Metro | to/a El Metro
| Transit Center | Outlets | Gonzalez @ Pinder | LCC Main Campus | Transit Center |
| --- | --- | --- | --- | --- |
| 101 | 510 | 523 | 510 | 101 |
| 8:15 | 8:22 | 8:29 | 8:33 | 8:40 |
| 9:15 | 9:22 | 9:29 | 9:33 | 9:40 |
| 10:15 | 10:22 | 10:29 | 10:33 | 10:40 |
| 11:15 | 11:22 | 11:29 | 11:33 | 11:40 |
| 12:15 | 12:22 | 12:29 | 12:33 | 12:40 |
| 1:15 | 1:22 | 1:29 | 1:33 | 1:40 |
| 2:15 | 2:22 | 2:29 | 2:33 | 2:40 |
| 3:15 | 3:22 | 3:29 | 3:33 | 3:40 |
| 4:15 | 4:22 | 4:29 | 4:33 | 4:40 |
| 5:15 | 5:22 | 5:29 | 5:33 | 5:40 |
| 6:15 | 6:22 | 6:29 | 6:33 | 6:40 |
Bold numerals represent PM times
Números oscuros representan los tiempos PM